…is The Progress Train. Following our successful campaign earlier this year to get Avanti West Coast's Pride train named Progress, we've been keeping a close eye on the links between the transport industry and the LGBTQ+ community. We're focussing on the topics that matter and the challenges that are being faced, and how we can slot in to be a truly inclusive campaign that's reflective of those we want to advocate for. To achieve this, it's important that we take the time to make sure that our plans are relevant and targeted at the biggest challenges. We're not going to change the world overnight, but we firmly believe that Progress will continue to happen, and every single person who pushes for it is a part of that story. No action is too little – Progress is as much about individual change as it is societal, and even tiny things like normalising the use of pronouns can have the biggest reach.
This week is Trans Awareness Week, and there's no better time for us to step up our efforts and take our campaign to the next level. You can find out a little more about what we've got planned in our first Progress Patter, or just keep your eyes closely peeled on our social media channels over the next five days! At the end of the week, we're also going to be launching a brand new campaign for you to get involved with. Again, we can't do this without you; whether you're part of the LGBTQ+ community yourself, or you want to find out more about how you can become an ally and support the community, we need your voice to spread our message and to help us keep on the right track. The Progress Train truly is for everyone.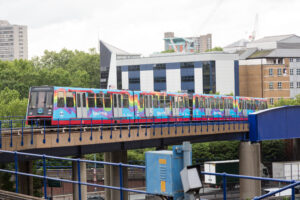 But, it's important to remember that The Progress Train wouldn't be here without the support of the transport industry. LGBTQ+ visibility has become more and more prominent in recent years, starting perhaps with the Docklands Light Railway's #RideWithPride train in 2015, with the concept growing and evolving to reach pretty much every corner of Britain's rail network. Of course, we'd love to see more inclusive #Trainbows (and #Busbows, #Buggybows, #Trambows and more!) reach every single operator, and we have no doubt that already there are even more vibrant and exciting designs on the way. Avanti West Coast really have upped the stakes with Progress – who's going to be next?
We've got a bigger celebration of the Trainbow on the way, but we wanted to pay homage to just a few of the designs that have appeared already, and celebrate our own formal launch as we gear up our plans. What better way to do this than to watch a colourful procession of arrivals – hopefully all on time! – from the comfort of your very own home. Welcome to Diversity Station – where We Believe In Progress.
Credits/Acknowledgements:
Announcer 1: Ed Fielden
Announcer 2: Nicola Fox
DLR image: Alex Thorkildsen
TPE image: Tom Cousins
GWR image: Tony Peters
Virgin image: Alex Thorkildsen
Thameslink image: Alex Thorkildsen
Progress video: Jude Heath
Arrivals boards: Arturs Dobrecovs
Producer/Editor: Charlotte Monroe