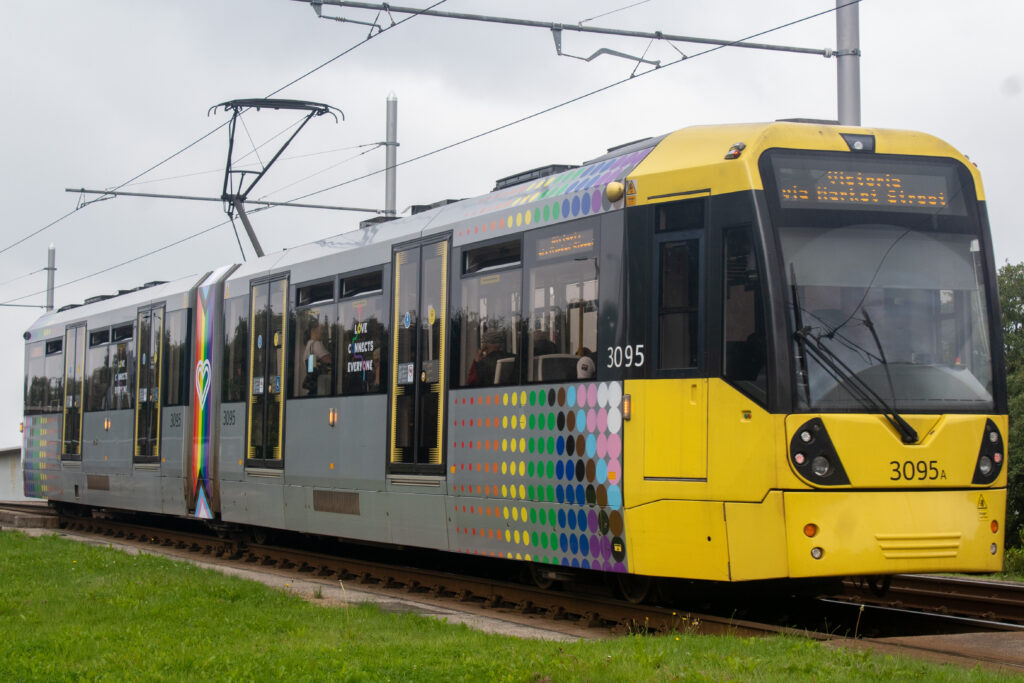 You wanted it, we wanted it: and now it's here! Yes, for their fifth year – and fourth design – Manchester Metrolink have come through and unveiled a Progress-liveried M5000 tram ahead of this year's Manchester Pride celebrations. Metrolink are, of course, no strangers to the Trambow concept: their designs have evolved each year to keep the concept fresh whilst also responding to changing dialogues within the LGBTQ+ community.
Following an understandable hiatus in 2020, the brand new design for 2021 still draws its inspiration from Metrolink's standard spotty livery, and is currently applied solely to tram 3095. In previous years, two units have been wrapped for Pride, so our eyes are eagerly peeled to see if a second one appears.
Manchester Pride takes place from Friday 27th to Monday 30th August, and is one of the largest Pride celebrations in the country. Metrolink has been a huge supporter of Pride over the years, with the first rainbow trams appearing in 2016. The design was repeated in 2017, with a refreshed version seen out on the tracks in 2018. 2019 saw the design evolved again with the addition of the 'Philadelphia' black and brown stripes, and – after an enforced pause for 2020 – the game has been upped again with the full Progress flag, incorporating the black and brown stripes of 'Philly' as well as the white, blue and pink stripes of the trans flag, for the very first time. In doing so, Metrolink have become the third operator to use the Progress flag on the rails, following in the footsteps of Avanti West Coast in August 2020 and ScotRail in June 2021.
Here at Progress HQ we're a big fan of both the Progress flag and trams, so we're incredibly excited to see 3095 out and about on the rails! We've also updated our Trainbow Tracker to include the latest addition – if you see it, be sure to share your photos with us on social media. We can't wait to see which operator might be next…