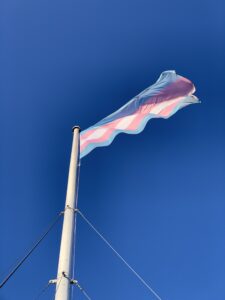 …an opportunity to celebrate all things to do with gender identity, as well as time to remember some of the struggles that have been faced to date by the trans community. It's the first awareness week we've had chance to take part in here at The Progress Train, and we've no plans for it to be the last! It's also one that's very close to our own hearts – our founder, Charlotte, identifies as gender fluid, and in previous years has also taken part in the flying of the trans Pride flag from the top of London Underground's former headquarters at 55 Broadway.
She's here to tell us all a little bit more about what Trans Awareness Week is, and to tease some of the plans we've got coming up here at The Progress Train…
As we're still finding our feet we can't guarantee that we'll hit every topic that's important, but we hope to give an idea of what gender identity is, to further the industry-wide conversations, and to focus on a small number of objectives that we think are accessible. As always, we don't claim to have all the answers, and we're here to listen and learn as much as everyone else.
So, what have we got coming up? Over the next few days we'll be hearing from a number of trans individuals about their experiences within the industry, and some of their thoughts on where we are with Progress. We'll be mythbusting some of the common misconceptions around gender identity, as well as sharing a few tips and hints about how you can make your own workplace more accessible and inclusive for all. There's also a handy FAQ on the way, covering all of those tricky questions that you've always wanted to find out the answers to.
On Wednesday, it's our Allies Special, where we take a closer look at what being an LGBTQ+ Ally is all about. It's a term that many have heard, and lots use, but it's something that's become frequently misunderstood. We'll dig in to the detail and take a look at how anyone can further gender inclusivity within the transport industry, as well as hear from folks who have furthered their own allyship.
Friday is Transgender Day of Remembrance (TDoR), a time to remember all of those who have lost their lives as a result of transphobia, as well as a time to draw attention to trans folk who continue to be the victims of targeted violence and harassment. Whilst we won't be running anything specifically for TDoR this year, we encourage you to take a look at our wider body of work and consider how some of our thoughts can help to improve things for everyone, as well as taking a moment out of your day to remember those who are no longer with us.
More generally, this week we've also got a new film coming teasing a future in-depth look at one of the most popular transport Pride topics, and we'll also be launching a new campaign as we look forward towards the new year. There's still time to take our Progress Affirmation too – I Believe In Progress. Make sure you tag us in your uploads; we'd love to feature you alongside the 50+ folks who have already taken part.
Don't forget, we love to hear from you; about what matters in your own corner of the industry, or your own experiences – positive or negative – of gender identity. You can get in touch by heading over to our contact page or reaching out on our social media. There's still time to take part in our plans for this year, and we'd love to hear from you.