We always love to see the message of The Progress Train filtering out into the media and beyond. Here, you can find just a small selection of the coverage we've received. Have we missed something? Let us know!
We also welcome enquiries from the press; get in touch via the link above and let's continue to spread the word of Progress!
---
Avanti West Coast Pride Train – Geoff Marshall
To mark the launch of The Progress Train, our founder Charlotte met up with YouTuber Geoff Marshall at Euston station. We sought out Pendolino 390 119, and Geoff captured Charlotte's first view of the train.
She also put forward our case for naming the train Progress, inviting people to engage with Avanti West Coast's competition and to share their own views and stories on Twitter.
Geoff resides on Twitter @GeoffTech and on YouTube. We're really grateful for Geoff's pioneering support right at the start of our campaign.
---
On board the Progress Train – RAIL Magazine 914, September 14-October 6 2020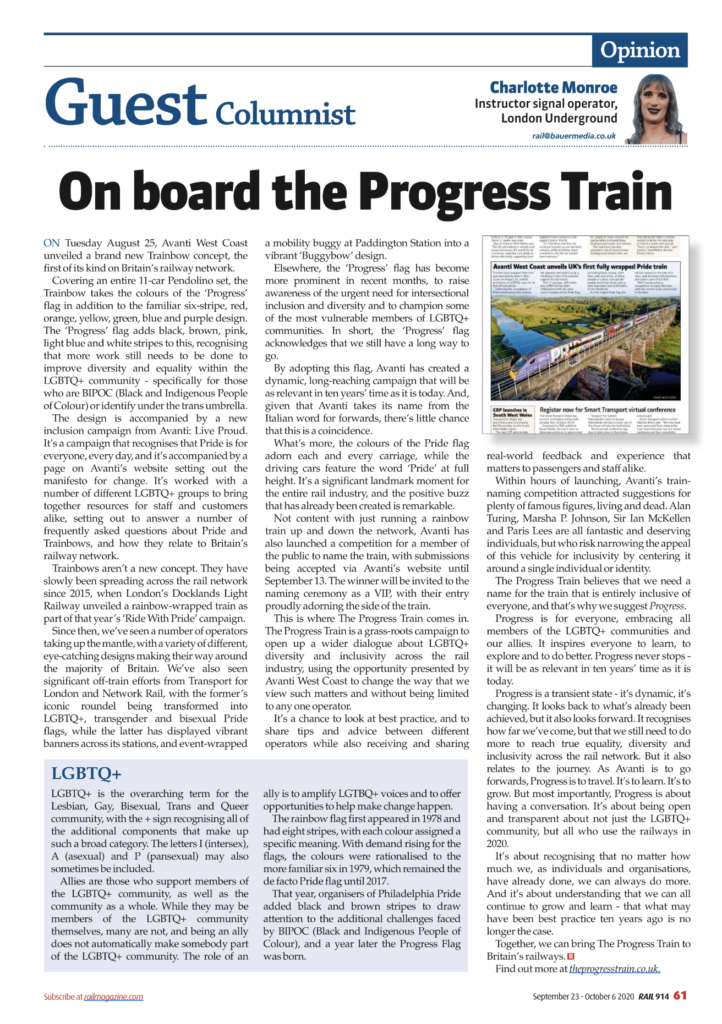 We received media coverage in issue 914 of leading UK rail industry magazine RAIL. The article, written by our founder Charlotte, covered the mission of The Progress Train as well as explaining more about the background of Avanti West Coast's Progress Pendolino, 390 119, and the LGBTQ+ movement within the UK.
RAIL magazine has a circulation of around 20,000 copies once a fortnight, and was a huge catapult for our campaign into the eyes of the public. We received great feedback from the piece, prompting further discussion about diversity across social media.
Charlotte's article can be read in full on the RAIL website, and we are extremely grateful to RAIL for the opportunity to speak about our campaign.