Since 2015, a plethora of rainbow-coloured trains have been running across the rails of the United Kingdom. From suburban metro systems to long-distance inter-city operators, a variety of creative designs have brightened people's lives, whilst also spreading the important message of inclusivity and diversity that Trainbows promote.
We'll keep this page updated as new Trainbows are unveiled and, if we've missed any, we'd love to hear about them – you can get in touch with us here.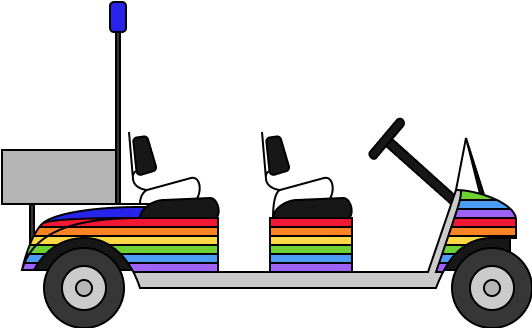 We couldn't run through the history of the Trainbow without giving a special shoutout to the Buggybow! These plucky upstarts can be found at Euston and Paddington stations, giving a helping hand to anyone who needs a ride from concourse to train (and back again!). It's a great initiative by Network Rail and another wonderful way of bringing more inclusivity to the rails. Now then… can we have a go…?

It might not be a train, but the Tiny Football Car captured the hearts of a nation during the UEFA Euro 2020 competition. Delivering footballs to the centre circle, the car was part of a sponsorship deal with manufacturer Volkswagen. For the final, seeing England up against Italy at Wembley Stadium, the car was decked out in the rainbow stripes.
We Stan the Tiny Car. ❤️

Okay, it's not a true Trainbow – but it's got a special place in our hearts. Former Greater Anglia franchise holder National Express branded their services as 'one' between April 2004 and February 2008. The stylish livery, complete with rainbow stripes, appeared across a huge range of rolling stock, quickly becoming one of the most recognisable brands on the railway. Despite no formal connection to any Pride campaigns, railway media at the time did make comparisons to the movement, with the livery also becoming known as 'Refreshers' after the confectionary of the same name. To date, it's the closest the region has come to having a Trainbow of its own – hopefully it won't be too much longer before one appears!
Last updated: 27 July 2023